As Lateral Building Design's Owner and Design Manager, John Harding-Smith is passionate when it comes to building design. With over 40 years experience in design, he has the knowledge and expertise to bring his client's dreams to reality.
John is qualified in building design, construction, and architectural drafting. He's also a registered Building Practitioner and a member of the Building Designers Association of Victoria. His qualifications combined with his extensive experience instils confidence in his clients, knowing he will produce a design that reflects their vision while working within council regulations.
John enjoys the design aspects of his job but relishes seeing the finished product. He is often left with a sense of privilege and accomplishment knowing he was a part of creating someone else's dream. He feels that with each project he is contributing to his clients' quality of life whether it's working on their personal space such as their home or their workspace. Understanding his clients' goals and how he can contribute to their success in their lives is really important to him.
While John loves working with clients, he also really enjoys training and mentoring other designers and helping them fulfil their design career aspirations.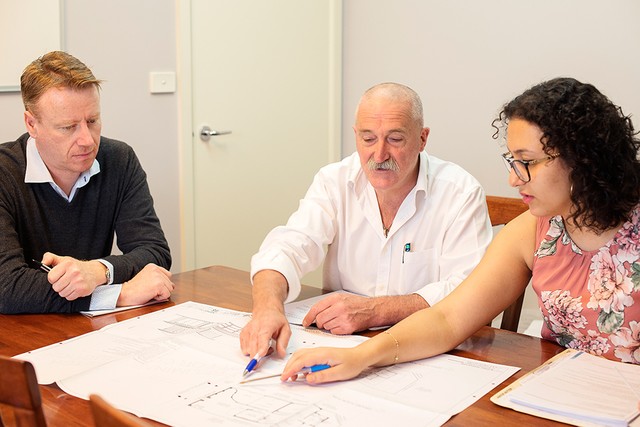 Relationships Matter
John loves working with people from all walks of life and nurturing the relationships he builds with his clients and those involved in all aspects of his projects including local councils and consultants.
He places great emphasis on getting to know his clients and the back story to their project so he can envision what they are trying to achieve. Having great relationships with all stakeholders involved in a project helps him deliver his clients' desired outcomes. John is extremely proud of Lateral Building Design's 96% success rate in obtaining town planning (or development) permits for their clients. These permits are not guaranteed, and it takes knowledge, hard work and relationships to obtain these.
Out of the Office
When John's not working, he enjoys gardening and taking on practical projects around the house. He's an avid Essendon Bombers fan so enjoys a good game of footy. He and his wife, Donna, LBD's Business Manager are also heavily involved in community projects.
As someone with a wealth of experience and a strong relationship with local councils, John is well placed to make it easier for his clients to achieve their design goals.
If you have a design project you would like to discuss with John, give him a call at Lateral Building Design on 9729 4973.