Hardwood flooring can transform a home, adding personality and warmth. Often a much sought-out feature, hardwood flooring is a classic element that adds value to a home. When it comes to hardwood floors there are many options to choose from, including species of wood, colour, width, length, and price but the main decision is whether to go with solid timber or engineered floors. The initial decision will affect the lifespan of your floor, it's durability, installation time and sustainability.
What is solid timber flooring?
Solid timber flooring is timber flooring made from strips of wood that have been cut from a variety of hardwood trees. Each strip is a solid piece of wood all the way through. This style of flooring is more common in older houses.
As solid timber flooring generally comes as a raw product, once installed they need to be sanded and polished. Polishing the floorboards provides a smooth surface that can be protected from foot traffic, spills and other wear and tear.
Advantages of solid timber flooring:
There are many benefits to having solid timber floors such as:
– They are easy to clean and maintain
– They can provide a warm feel to your home
– They are designed to last many years and age gracefully
– They're adaptable to any décor as they can be stained to suit any interior colour scheme
– They improve air quality as they don't hide allergens, pollens or dander
– They're cost effective over time as unlike carpet they last much longer
– They can be sanded and polished multiple times
– Less susceptible to termites
– Solid and more stable with no joining edges
Disadvantages of solid timber flooring:
While there are many benefits to solid timber flooring, there are some disadvantages such as:
– The installation process can be very dusty and messy not to mention lengthy
– You'll most likely need to move out of your home when sanding
– Boards may be random in size
– Repair and replacement of boards requires a sand and polish of the whole area
– They can be (more) expensive
What are engineered floors?
Engineered floors are designed to look like solid timber flooring but are made up of multiple layers of ply, pine or runner wood and topped with a timber veneer and protective coating. It provides a combination of the elegance of solid timber flooring with popular features such as water resistance and floating floor installation.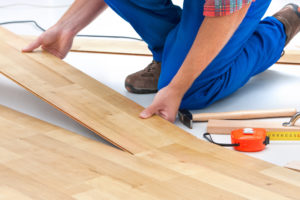 Advantages of Engineered Floors:
There are many benefits to using engineered floors in your home including:
– They are more cost-effective than solid wood flooring
– They are a quicker and cleaner installation process
– They are more stable to changes in moisture and temperature so extreme conditions are unlikely to affect them
– They're more wear-resistant than solid timber flooring
– The boards are prefinished, so no sanding or polishing is required once the boards are laid
– They are eco-friendly
– More stylistic variations available including wider boards, colours and finishes
Disadvantages of Engineered Floors:
Some of the disadvantages of engineered flooring include:
– They can be prone to scratches and dents
– Quality can vary from one manufacturer to another
– They are more susceptible to termites and white ants
– Flooring can fade if it has too much exposure to sunlight
– Can sound cheap and hollow to walk on
Whether you choose solid timber flooring or engineered floors, hardwood flooring is a great investment for your home.
Stop by the Lateral Building Design studio to look at all your flooring options today!